Donalda Motors

Location:
Maffra, Gippsland, VIC
Updated:
16th Aug 18
Ask this Car Dealer a question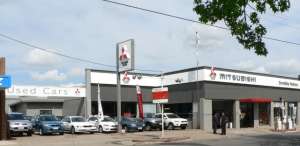 Jock and Naught McDonald with Jack DeVanny moved to Maffra in  February 1926. Jock was 22 years old and Naught was 21 years old, Jack DeVanny was older than the McDonald brothers.
Prior to moving to Maffra, Jock had operated a business, "Donalda Garage" from the family home in East St Kilda, Victoria and joined the V.A.C.C. in September 1925. Jock gained his mechanical knowledge working at the Canada and Cycle Motor Company in Melbourne (Dodge importers). Naught, also a mechanic, worked at Kellow Faulkiner in Melbourne (Rolls Royce dealers). Jack DeVanny had no mechanical knowledge and was to do the clerical work. The McDonald brothers bought Jack DeVanny out in June 1926 and continued in business together until 1946 at which time Naught left the business.
---------------------------------------------------------------------------------------------

The early petrol pumps were hand operated with large glass bowls on the top measured in gallons.
The first car lift/hydraulic hoist was installed in 1928. This was advertised at the local movies showing the hoist lifting a cow. Many people from all over Gippsland came and visited Donalda Motors to see the hoist. Incidentally, this hoist is still in use daily, together with one installed in 1934 and another in 1951/52.
During the tough depression years from 1930 until 1936 car sales for all manufacturers were negligible and the survival of Donalda Motors depended on repairs. Also during the depression the Government of the time introduced a debt equalisation scheme which enabled primary producers who owed money to businesses to have their debt eliminated and this resulted in many businesses going broke. We, like most others, suffered as a result of this scheme but managed to survive these difficult times. In the late 1930's business recovered and car sales steadily increased and this continued until the outbreak of war.
Now

Jock McDonald's son, Colin, has been the dealer principal for over 30 years, and since 1981 has been the areas Mitsubishi dealer with son Murray a company director and the machinery General manager, selling a wide range of farm machinery including Massey Ferguson, Fendt and Kubota tractors.




Donalda Motors are loyal supporters of local businesses and charities and in 2010 were awarded the national 'Distinguished Dealer' and 'Sales and Service' awards.

Mitsubishi Motors Maffra employ 22 dedicated staff who take pride in delivering a quality and positive experience in everything they do, from sales to service right through to after sales service and everything in between.