Hill Fitzsimmons PTY LTD

Location:
Moree, New England, NSW
Updated:
30th Mar 18
Ask this Car Dealer a question
About Hill Fitzsimmons 
Thank you for visiting the Hill Fitzsimmons page on Country Cars and viewing our vehicles. We have been a proud member of the Moree community since opening in 1961 and we've done much more than introduce many happy customers to a new vehicle. We have been an active part of the community since day one and our involvement extends from lending a hand at school fetes to getting behind local charities and sponsoring community sporting groups. We pride ourselves on customer service and look forward to helping you choose your next new or used vehicle. Come into our fully air-conditioned and recently renovated showroom and see what we have on offer. We also have a petrol station on site with a full range of fuel, food, drinks, newspapers and all your road trip needs.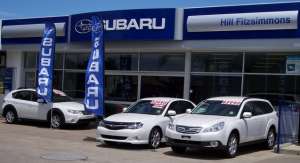 Subaru
Subaru offers one of the most technologically advanced cars in Australia with a reputation for outstanding performance, safety and retained value. The more you get to know their range the more you will understand how brilliant these vehicles are. At the heart and soul of every Subaru is a Symmetrical All Wheel Drive System, a horizontally opposed boxer engine and a five star ANCAP safety rating.
Through Subaru's special technology we will soon be able to show vision of your new car, the exact model and colour, on our plasma television. The technology allows you to see your new car and not have to imagine what it will look like using brochures and colour charts.
Workshop / Spare parts
Our service to you does not stop when you drive away in your new or pre-owned Subaru, we have professional servicing and ongoing after-sales care that we are renowned for. Our customers benefit from our transparency because we promise not to do anything to vehicle that does not need fixing. Through our spare parts department we can order in parts that can improve or accessorise your vehicle.
NRMA
In 2008 Hill Fitzsimmons celebrated 40 years as the Moree Customer Service Centre for NRMA insurance. Our friendly staff can help with all insurance enquiries from getting your first quote to signing up for insurance and road side assistance. Aside from selling insurance the centre also has a range of handy travel items that are adapted for vehicle use.