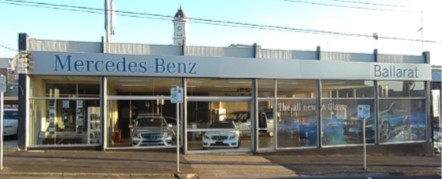 About Autoworld Ballarat
Autoworld Ballarat is the pre-owned vehicle division of Mercedes-Benz Ballarat.
Mercedes-Benz Ballarat is the longest established independent dealer franchise in Victoria for Mercedes-Benz Passenger Vehicles having been appointed in 1960 and has been continuously selling, servicing and providing spare parts for the marque ever since.
In May 2003 the Mercedes-Benz Van range was added to the product offering in all areas of Sales, Service and Parts.
We are a VACC Accredited Dealership along with a Vic Roads Approved Licensed Roadworthy Inspection facility.
We offer a full workshop service for all makes and models of vehicles. 
Autoworld Ballarat specialise in late model, excellent condition passenger vehicles, SUV and 4x4, Commercial Vehicles including Utes, Vans and Dual Cabs and People Movers.
All vehicles are sold with the balance of the new vehicle warranty or we provide a statutory 3 month of 5,000km warranty. Extended warranties are able to be purchased for increased peace of mind.
We offer free drop off and pick up for vehicles being serviced. Loan cars are available by appointment.
Trading Hours are 8.30am – 5.30pm Mon – Friday, 9.00am – 3.00pm Saturday..
We will arrange Sundays by appointment.
| | |
| --- | --- |
| To view more details about any advert, click on the picture. | |



Used 2012 NISSAN PULSAR ST

For Sale
This CURRENT model 2013 Nissan Pulsar ST Sedan will not disappoint anyone looking to purchase a near new car...... Its striking Cayenne Red paint work ensures it stands out from the pack and with the charcoal black interior it look`s as good as many...
* Used * 1 spd Constantly Variable Transmission * Cayenne Red * Car
Dealer


Used 2013 HYUNDAI ELANTRA ACTIVE

For Sale
Hyundai`s have come a long way since their introduction to Australia and this MD Series Elantra Active sedan is a glowing example of the cars they are producing today......It`s simply SUPERB and without doubt one of the best looking cars on the road...
* Used * 6 spd Sports Automatic * Sleek Silver * Car
Dealer




Used 2010 VOLKSWAGEN PASSAT 125TDI DSG HIGHLINE

For Sale
This one owner Volkswagen Passat TDi Highline sedan is in truly outstanding condition and will easily impress at every level.......It`s powered by an EXTREMELY fuel efficient yet very POWERFUL 2.0ltr turbo-charged DIESEL engine and with the six speed...
* Used * 6 spd Sports Automatic Dual Clutch * Candy White * Car
Dealer




Used 2011 TOYOTA HIACE COMMUTER HIGH ROOF SUPER LWB

For Sale
12 seats and SUPER LOW 40,175KMS. This 2011 Toyota Hiace Commuter Bus has had ONE very careful OWNER and is in IMACULATE condition. With 12 SEATS and full AUTOMATIC transmission this bus can be driven by anyone with a CAR LICENSE. A very ECONOMICAL...
* Used * 4 spd Automatic * French Vanilla * Car
Dealer



Used 2014 MERCEDES E200 7G-TRONIC +

For Sale
This stunning E200 Demonstrator is one not to miss out on. Presented in classic Polar White this vehicle is a dream to keep clean and easily seen on the open road making it the safest colour choice. Standard this vehicle comes with Black Artico...
* Used * 7 spd Sports Automatic * Polar White * Car
Dealer




Used 2011 FORD FIESTA CL PWRSHIFT

For Sale
This CURRENT SHAPE model Ford WT Fiesta CL 5 door hatch is in truly SUPERB condition and will no doubt give it new owner very reliable, low cost ownership for many years to come........With it`s fuel efficient 1.6ltr engine and SIX SPEED AUTOMATIC...
* Used * 6 spd Sports Automatic Dual Clutch * Highlight Silver * Car
Dealer




Used 2011 HYUNDAI I30 SX

For Sale
YES!!!!.. this is the model that one Hyundai the CAR OF THE YEAR award and it`s very easy to see why...... With it`s fuel efficient, yet surprisingly powerful 2.0ltr engine and automatic transmission you`ll love the way it goes....Inside there`s room...
* Used * 4 spd Automatic * Ceramic White * Car
Dealer




Used 2011 HOLDEN UTE OMEGA

For Sale
How`s this for value??.. A 2011 Holden VE SERIES 11 ute in SUPERB condition, with only 83,808km traveled for only $17,987 DRIVEAWAY.... YES, IT`S GREAT VALUE!!!!!!! Finished in easy care HERON WHITE paintwork and with the charcoal grey seats and...
* Used * 6 spd Sports Automatic * Heron White * Car
Dealer
Used 2012 FORD FOCUS AMBIENTE PWRSHIFT

For Sale
This CURRENT MODEL, LW Ford Focus Ambiente, AUTOMATIC hatchback is truly outstanding value at this low DRIVEAWAY price ...European designed and built this car offers unrivalled ride and handling for a car of this size...The 1.6ltr engine fitted is...
* Used * 6 spd Sports Automatic Dual Clutch * Moondust Silver * Car
Dealer




Used 2012 HOLDEN CRUZE CDX

For Sale
This is Holden`s `BIG`, small car and YES you won`t believe how spacious inside this car is...It can comfortably fit up to five people plus you`ll be amazed at how much room is in the hatchback !!!.. Speaking of amazing, just wait `till you drive...
* Used * 6 spd Sports Automatic * Nitrate * Car
Dealer