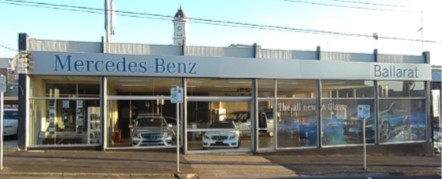 About Autoworld Ballarat
Autoworld Ballarat is the pre-owned vehicle division of Mercedes-Benz Ballarat.
Mercedes-Benz Ballarat is the longest established independent dealer franchise in Victoria for Mercedes-Benz Passenger Vehicles having been appointed in 1960 and has been continuously selling, servicing and providing spare parts for the marque ever since.
In May 2003 the Mercedes-Benz Van range was added to the product offering in all areas of Sales, Service and Parts.
We are a VACC Accredited Dealership along with a Vic Roads Approved Licensed Roadworthy Inspection facility.
We offer a full workshop service for all makes and models of vehicles. 
Autoworld Ballarat specialise in late model, excellent condition passenger vehicles, SUV and 4x4, Commercial Vehicles including Utes, Vans and Dual Cabs and People Movers.
All vehicles are sold with the balance of the new vehicle warranty or we provide a statutory 3 month of 5,000km warranty. Extended warranties are able to be purchased for increased peace of mind.
We offer free drop off and pick up for vehicles being serviced. Loan cars are available by appointment.
Trading Hours are 8.30am – 5.30pm Mon – Friday, 9.00am – 3.00pm Saturday..
We will arrange Sundays by appointment.
| | |
| --- | --- |
| To view more details about any advert, click on the picture. | |




Used 2009 MAZDA 3 SP25

Car For Sale
Just arrived is this superb BL series, Mazda 3 SP25 sports hatch....You`ll love the way it goes with it`s powerful 2.5ltr VVT-i engine and with the 5 speed PADDLE SHIFT AUTOMATIC fitted to this car it`s great to drive and the fuel economy is...
* Used * 5 spd Sports Automatic * Velocity Red * Car
Dealer



Used 2010 MITSUBISHI PAJERO VR-X

Car For Sale
This 2010 NT Pajero VRX 4WD wagon is in showroom condition and will easily pass even the harshest critics inspection... Powered by Mitsubishi`s renowned 3.2ltr TURBO-DIESEL engine and with the tiptronic AUTOMATIC transmission fitted it will deliver...
* Used * 5 spd Sports Automatic * Champagne * Car
Dealer




Used 2012 MERCEDES SPRINTER 313CDI HIGH ROOF LWB 7G-TRONIC

Van For Sale
************LONG WHEEL BASE************** This Mercedes-Benz Sprinter 313CDI long wheel base is great for the outdoors or the ideal WORK vehicle. With the powerful 2.1 litre TURBO DIESEL engine and AUTOMATIC transmission and only 77,660 on the...
* Used * 7 spd Sports Automatic * Arctic White * Car
Dealer




Used 2007 TOYOTA YARIS YRS

Car For Sale
With fuel prices increasing daily, economical cars are becomming more and more desirable and this Toyota Yaris YRS 5 door hatch is undoubtably one of the most sought after cars on the market today.......... With a stylish exterior shape, room inside...
* Used * 5 spd Manual * Ink * Car
Dealer




Used 2011 GREAT WALL V200

Car For Sale
If your wanting to buy a late model, dual-cab ute that is both inexpensive to buy, maintain and run then put this 2012 Great Wall V200 TDCi ute on top of your list for SERIOUS consideration....... It`s powered buy a 2.0ltr TURBO-DIESEL engine that is...
* Used * 6 spd Manual * Titanium White * Car
Dealer




Used 2007 JEEP CHEROKEE SPORT

Car For Sale
JEEP CHEROKEE DIESEL TURBO CRD, meticulously maintained by one owner. Only 86402km with full service history. Beautifully finished gold exterior paint in great condition with interior featuring cream leather seats. Added accessories include electric...
* Used * 5 spd Automatic * Gold * Car
Dealer



Used 2012 FORD FOCUS AMBIENTE PWRSHIFT

Car For Sale
This CURRENT MODEL, LW Ford Focus Ambiente, AUTOMATIC hatchback is truly outstanding value at this low DRIVEAWAY price ...European designed and built this car offers unrivalled ride and handling for a car of this size...The 1.6ltr engine fitted is...
* Used * 6 spd Sports Automatic Dual Clutch * Moondust Silver * Car
Dealer




Used 2012 HOLDEN CRUZE CDX

Car For Sale
This is Holden`s `BIG`, small car and YES you won`t believe how spacious inside this car is...It can comfortably fit up to five people plus you`ll be amazed at how much room is in the hatchback !!!.. Speaking of amazing, just wait `till you drive...
* Used * 6 spd Sports Automatic * Nitrate * Car
Dealer