Taree Toyota

Location:
Taree, Coastal, NSW
Updated:
5th Jul 22
Ask this Car Dealer a question
Taree Toyota, Serving the Local Community for Over 40 Years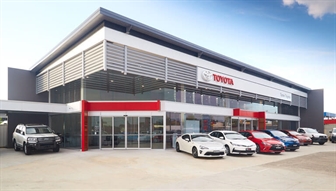 Taree Toyota has been serving the local community for many years. It is a record we're proud of as over the years we've specialised in :
We work daily to ensure that our customers are having a fantastic experience, whether that's in the purchase of a new or pre-owned vehicle or even a regular service! For over 40 years we've been able to supply quality new and used vehicles to our customers as their needs have changed, many of these customers have come back time and time again.
Taree Toyota is operated with the highest level of professionalism and we take an active role in our local community.
For many years we've employed and trained many locals in our Dealership, ensuring they're fully qualified to support your vehicle needs as well as take care of the local community.

Our very committed and capable 38 member team will make your "Taree Toyota" experience very enjoyable and memorable. We're proud to say that many customers come in for the price and stay for the service.
Taree Toyota is located at 46 Victoria Street, Taree NSW 2430. If you would like to call us, please call 02 8081 6198.