Illawarra Toyota North Wollongong

Location:
Illawarra, Southern NSW, NSW
Updated:
4th Dec 21
Ask this Car Dealer a question

Owner Tony White is the driving force behind one of Australia's fastest growing automotive dealer groups, and with the help of the management team, the determination to succeed will drive Illawarra Toyota to even greater success in the years ahead.
Illawarra Toyota has been serving the local community for many years.  It is a record we're proud of as over the years we've specialised in :
·         New Toyota Vehicle Sales
·         Used Vehicle Sales
·         Finance & Insurance
·         Vehicle Servicing
·         Genuine Parts & Accessories
What to Expect From Us
·         A friendly reception and prompt attention.
·         A thorough consultative interview to ensure all your requirements are fully understood.
·         Complete transparency. We will give you our recommendations upfront once we have a proper understanding of your situation and requirements .
·         All prices will be clearly illustrated and explained.
·         Assurance that you will be treated with the greatest respect always and that any service will be performed to the highest standards every time.
·         Only state-of-the-art Toyota approved technical equipment and genuine Toyota Parts will be used to service and care for your vehicle.
We're a proud member of the local community and we're looking forward to ensuring you get a great deal and service with a smile!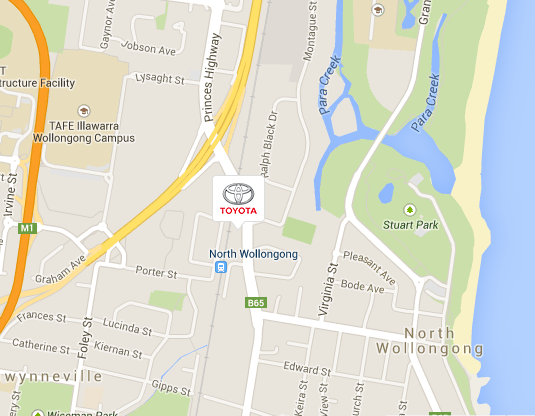 With a choice of flexible vehicle finance solutions from Illawarra Toyota, you can enjoy driving away with the right car loan for you.
If you're looking for a new or used car we offer a variety of great loan options to get you into your new car sooner than you think. No one knows car finance like Illawarra Toyota and we offer options for both personal and business finance.
For personal finance we recommend :
·         Consumer Fixed Rate Car Loan
·         Novated Lease
For business finance we recommend : 
·         Business Vehicle Loan
·         Finance Lease
·         Finance a Fleet of Vehicles
Our team are here to support your automotive needs, so if you need finance for your vehicle, feel free to speak with our team or enquire online now.